This post may contain affiliate links, which help keep this blog up and running. Thank you for your support!
March 18, 2021
This summer (and every summer) L2B writers have caught themselves daydreaming about the perfect vacation. Being the young professionals and college students that we are, these fantasies are out of our reach…for now.
So every Friday for the next few weeks, we will reveal our dreams to you–with a coordinating outfit, of course.
Week 1: Chelsey Plumb
If I could go anywhere on a last-minute vacation, I would go to the Bahamas. I have never been to the islands before, but from what I hear, the area is quite beautiful. I love warm tropical weather, which makes my decision a little easier. Being from New England, I have always wondered what it was like to step into crystal clear waters on a flawless beach. The beaches in New England are okay, but nothing compares to Caribbean waters. I would love to go on a cruise or go snorkeling in that area. I feel you could see so much beauty and wild life because the waters are so clear. I'm afraid my dream vacation will not happen anytime soon, considering I am a poor college student.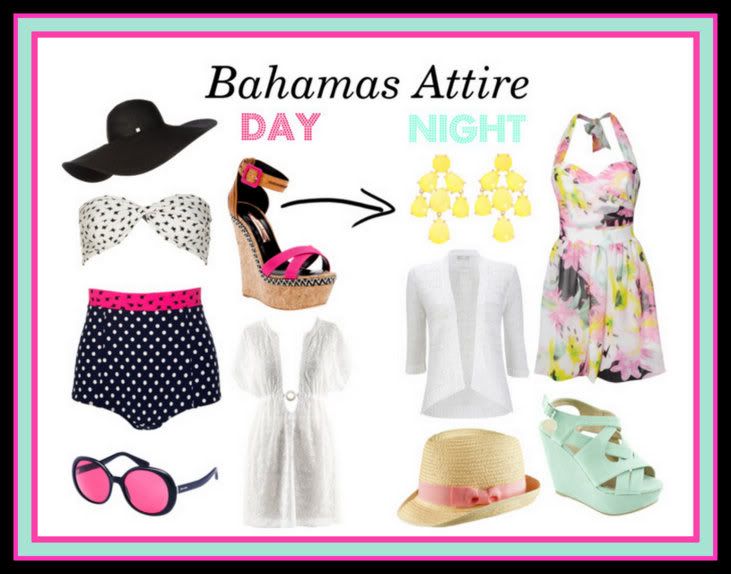 Day Time Attire:
1. Hat $38 at houseoffraser.co.uk
2. Bathing Suit at glamourmagazine.co.uk
3. Sunglasses $335 at miumiu.com
4. Wedges $735 at farfetch.com
5. Cover Up Dress $40 at amazon.com
Evening Attire:
1. Earrings $98 at couture.zappos.com
2. Halter Dress $39 at bankfashion.co.uk
3. Cardigan $61 at wallisfashion.com
4. Wedges $34 at desireclothing.co.uk 
As far as my outfit, I have broken it down into two categories, day and night. During the day, I would be at the beach and walking around enjoying the scenery. I think having an adorable bathing suit is a must! Having a cover up is practical, if I wanted to go around and explore. To dress this daytime outfit up, I paired it with a really cute pair of wedges, sunglasses, and oversized floppy hat for the beach feel. For the evening, I would plan on going to have a nice dinner with my friends or boyfriend. I chose to wear a halter empire waist, pastel printed dress with a white cotton cardigan over it, in case it gets breezy at night. For the rest of my outfit, I picked out hues in the dress for my shoes and accessories.
 Where would you go on your dream vacation? What would you wear?